CLEAN EVERYTHING WITHOUT WATER !
Le 07/04/2023 à 13h00
NO WATER 2
Plant efficiency during water restriction period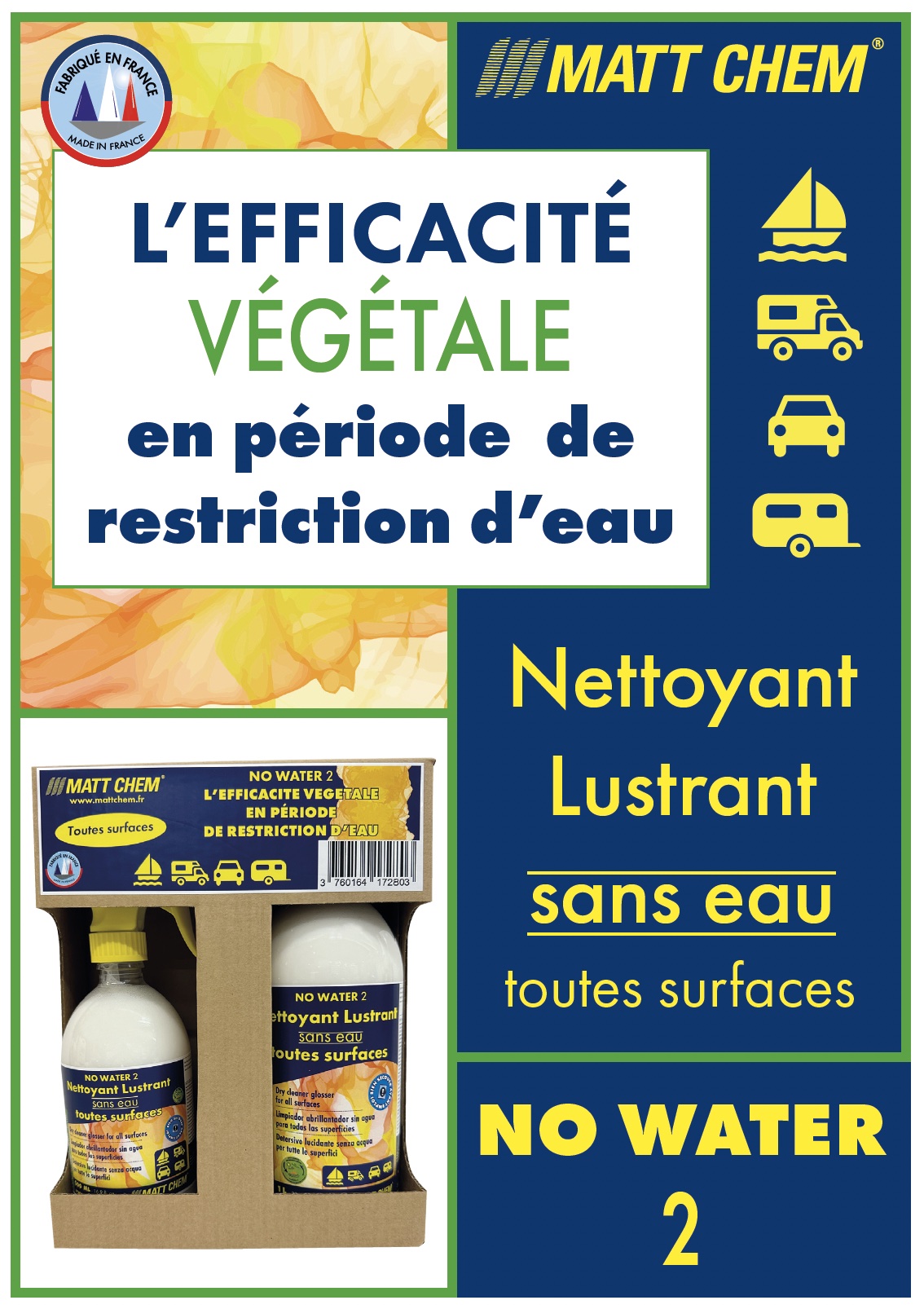 Dry cleaner glosser for all surfaces NO WATER 2 is a preparation based on a com-bination of moistening and degreasing agents of vegetable origin, wax and protective additives.
NO WATER 2 is silicone free.
NO WATER 2 is a MULTIFUNCTIONAL product:
• Degreasing
• Dust removal
• Protective effect (anti-fouling)
• Restores shine
NO WATER 2 removes dust, grime, and greasy marks and also the tarnish haze deposited on gelcoat, painted surface, plastics, light alloys, stainless steel...
NO WATER 2 brings back shine and revives co-lours without rubbing
NO WATER 2 leaves a water-repellent protective film on the treated surface which delays stains.
Instructions of use :
Before use, always shake well the bottle.
Spray directly onto small areas about 10-15cm from the surface.
Let act a few seconds and spread using a dry lint free cloth.
Wipe off without excess pressure.
Then, gloss with a clean and dry soft rag.
Technical data :
Physical State : White liquid
Density : 1000 g / Litre
Chemical reaction: Neutral.
pure pH: 7.35
Smell: Floralie des anges Ref. 351M.K - KIT (Spray 500ml + 1L)
Ref. 351MS.05 - Spray 500ml
Ref. 351M - Bottle 1 litre
Ref. 351M.5 - Bottle 5 litres